NOVA
A downloadable roleplaying game
Nominated for two ENNIES including Best Layout and Best Rules!
NOVA is a rules-lite tabletop RPG in a world where the sun exploded, and humanity struggles to hold onto what little light they have left. The players will pilot exosuits, called Sparks, exploring the dark ruins of old earth, searching for the technology and knowledge that may just bring on a new dawn.

The Game
NOVA uses the LUMEN system, which is designed for action-packed combat, equipping the players with a set of powers that bring the power fantasy feelings of looter shooters to the tabletop.
Players will each choose a Spark to pilot, specialized exosuits designed to explore the dangers of the Dusk. Each exosuit was designed by humanity to serve a particular function, and the LUMEN system equips the players with a set of powers and abilities that allow them to excel while on their dangerous missions.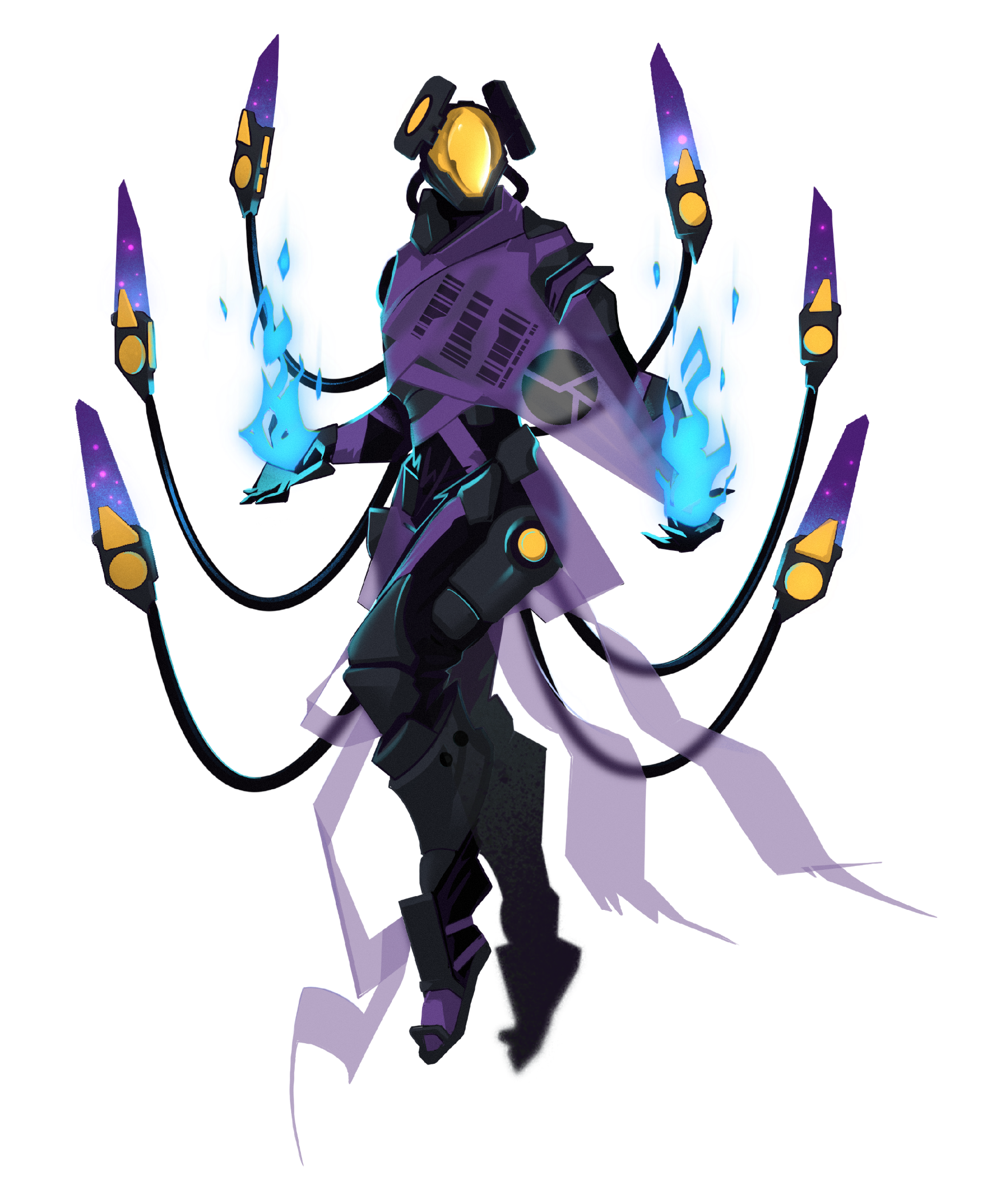 Players roll pools of six-sided dice based on how they are acting in the world, rather that what they are doing. That means there are no skill or action lists. Instead, each player has three attributes that describe how they might accomplish a task.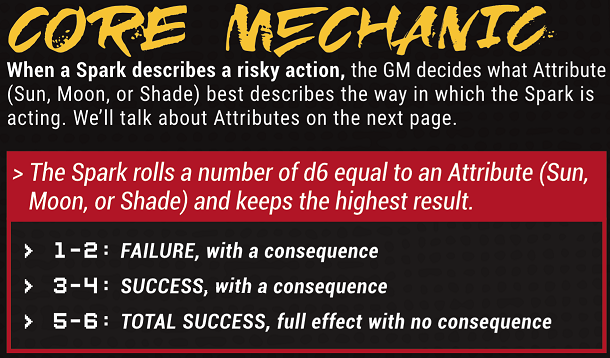 Combat in NOVA is frenetic, and the players are encouraged to unleash devastation on every enemy that comes their way. The rules are designed to keep fights moving quickly, while also keeping the Sparks powered up and always ready to bring their worst.

To keep things as quick as possible, players don't even need to roll dice during combat. Instead, they need to carefully manage their Fuel, a resource that allows them to unleash their terrifying powers. As foes are taken out, they drop valuable resources that replenish health and Fuel for the Sparks. This keeps the combat moving quickly, and the Sparks feeling deadly.

As the Sparks complete more missions, they will unlock Mods that make them even more powerful. Some mods provide persistent bonuses, while others can be equipped to your powers, allowing you to customize how your Spark acts in the field.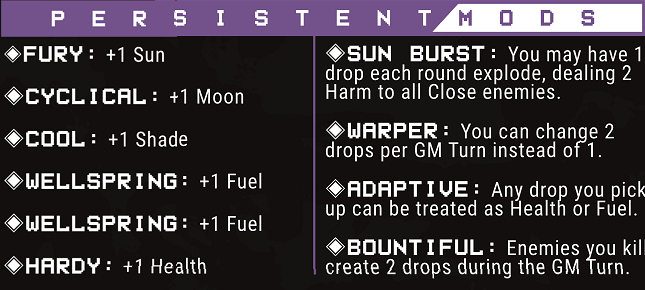 What's included with NOVA:
Complete rules for playing NOVA
9 different Spark classes to choose from
Modular advancement system that focuses on builds, rather than "leveling up"
Rules, tools, and guidance for generating missions and ruins of old earth
Tons of enemies to take on while you're exploring the Dusk
Testimonials
"NOVA is immediately powerful and (literally and metaphorically) punchy. The action and combat is fast and streamlined, but power sets synergize in exciting and tactical ways to create plenty of depth for those looking for it. I already want to play more of it."
- Josh Hittie. Extracausal, Vibe Check.

"Spencer Campbell's Lumen system seamlessly loads the vibe of the looter shooter genre onto any tabletop. NOVA overclocks & ignites that system into a game of shared world-building that gets players into missions & mayhem in a flash."
- Tony Vasinda. Plus One Exp.

"Five minutes into playing NOVA and the battlefield was a blazing inferno of fire, the sky was full of homing missiles, and a Spark was running around wrecking enemies with a HOT SWORD. If that's not the coolest thing ever, I don't know what is."
- Ty Pitre. Smoke, Fuel, & Fire.
Watch It Played
Check out these Actual Play videos of NOVA being played!
NOVA 3rd Part & Creator Kit
You can find the ongoing collection of 3rd Party NOVA content here.
Want to make your own 3rd party NOVA content? I've released the completely free NOVA Creator Kit with advice on making things for the game, as well as a template you can use for making your very own Spark.
Quick Rundown
Want to see a real quick overview of the game? Check out this video done by 11dragonkid. Everything you need to know about the game in under 6 minutes.
Spread the Love
If you enjoy NOVA, please consider leaving a 5 star rating here on itch. It helps get the game in front of more folks!
| | |
| --- | --- |
| Status | Released |
| Category | Physical game |
| Rating | |
| Author | Gila RPGs |
| Genre | Action, Role Playing |
| Tags | lumen, mech, mecha, Mechs, power-fantasy, roleplay, Tactical RPG, Tabletop role-playing game |
| Links | Twitter, Patreon, YouTube |
Purchase
In order to download this roleplaying game you must purchase it at or above the minimum price of $15 USD. You will get access to the following files:
2e Proposal Packet
762 kB
Download demo