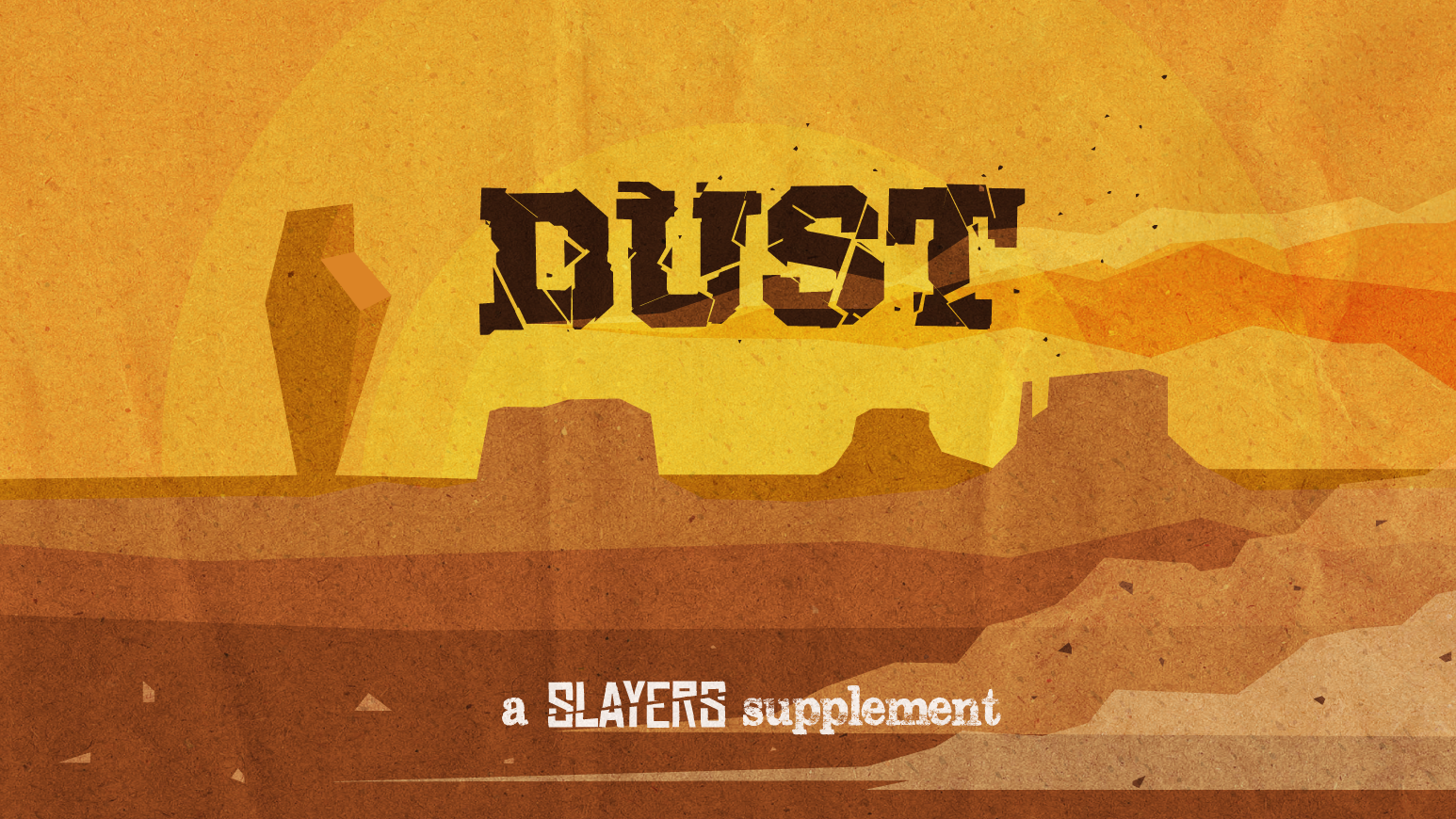 Dust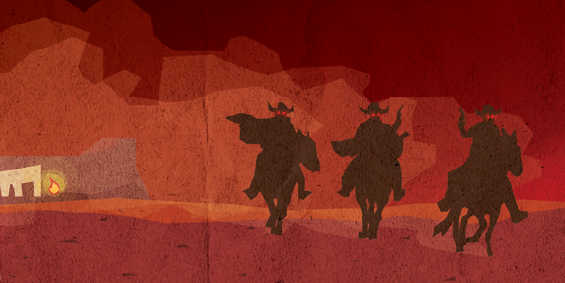 Dust. A desert in the middle of a city; The City to be exact. The sounds of forges echo off the mountains, punctuated by the blast of a six-shooter. Slingers are judge, jury, and executioner. This place is so damned, even our monsters are cursed.
So read my words, and read 'em well, Slayer. Because all that monster hunting you did back in The City ain't gonna mean spit out here if you end up with a bullet in the back of your head.
Welcome to Dust.

Dust is a supplemental zine for the tabletop RPG Slayers. You'll need Slayers in order to use Dust. It's a deep dive into one of the districts of The City, and a goldmine of information and resources for playing in Dust. What's in it? Great question, here's the highlight reel:
40 page, full color zine
Locations, NPCs, factions, and tables to roll on to fill the district with life
Illustrated hexmap, with optional travel rules for moving around in the Dust
Tons of original art illustrated by Mike Rieman
10 rumors to get your Slayers moving
4 adventures, each using a classic wild west trope (of course there is a train robbery)
8 new monsters that are going to crawl out of the Dust and kill you
A brand new class: The Deadeye
Inside you'll find the home of the Gunslingers. While many Slingers make their way to The City to take up slaying, some stay in the Dust. As the birth place of the Slingers, it's also where the fabled revolvers are made, forged by fanatics who worship the firearm like a god, with gunpowder and lead as their communion.
It's a district that toes the line between order and chaos. The Slingers keep the peace, but each of them has their own interpretation of that word. The monsters are cursed, making them crueler and harder to kill than many you'll find back in The City.

Deadeyes have been given the rifle made by the forgefolk. Whirring with cogs and gears, it fires faster and more deadly than any flintlock rifle back in The City. Deadeyes have had one eye surgically removed, replaced with an arcane implement that allows them to analyze and kill their target with ruthless efficiency.
This new class adds to your asymmetrical experience with Slayers. An alternative version of the classic "usage die" seen in other RPGs, the Deadeye class is about analyzing their foe, taking aim, and making their shot count.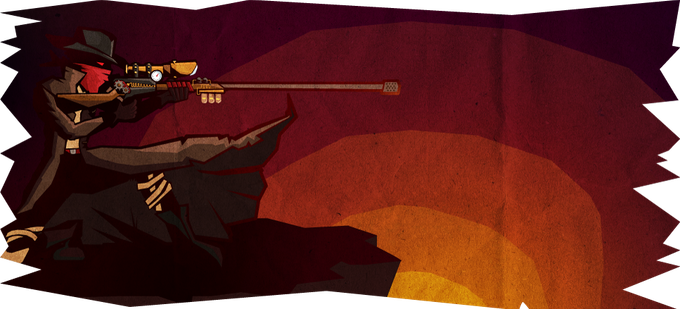 Explore Dust
Dust is full of interesting characters, and strange environments to explore. We don't want to give away too much, so here's a tease to wet your appetite.



Printed Zine
Looking for a physical copy? You can grab your copy of the beautiful full color zine today!
Designer Commentary
I recorded a video talking about inspirations for Dust and how it all came together. Spoiler alert: I go through the zine in this video, so save it for later if you want to read the PDF or zine first!
Discord
Purchase
In order to download this game you must purchase it at or above the minimum price of $5 USD. You will get access to the following files:
Deadeye Character Sheet (Color)
26 MB
Deadeye Character Sheet (B&W)
17 MB
Dust Newspaper Map Itch.pdf
6 MB
Community Copies
Support this game at or above a special price point to receive something exclusive.
Community Copies
Free copies of Dust to those who need one. No questions asked, enjoy the game.
Comments
Log in with itch.io to leave a comment.
Any plans for another print run? as I'd love a physical copy of this supplement.
Yep! Planning on ordering it in the next couple months to go alongside the Slayers 1.5 print run
Brilliant news, for me if not my credit card😆.
shirt that says "I travelled to dust but all I got was this lousy shirt"